Navigating the James Brown Quagmire
By Mark "The Red" Harlan
Photos by Josh Carter
April 5, 1999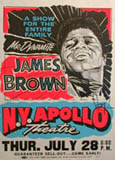 If you love any type of popular music, you owe it to yourself to go out and get some work by the original Godfather of Soul, James Brown. Known chiefly in the white radio community for "I Got You (I feel good)," and "Papa's Got a Brand New Bag," Mr. Brown's influence runs much deeper than a few top 40 hits and the occasional high speed police chase. For all practical purposes Brown is a the hardcore speedball combo of Elvis Presley and the Beatles in the in the R&B world. James has been almost single handedly responsible for the creation of both funk and rap, without living exclusively in those worlds himself. On a good day he will throw away more great ideas than the average musician can conjure in a lifetime.
But that's not to say that James is always "on." Mr. Dynamite has been recording for 40+ years (with over 80 albums to his credit), giving him plenty of room for loser recordings -- just as Shakespeare wrote Titus Andronicus, James Brown has some real crap too. If you do some digging on your own to try and find out what's good, it won't be long before you're reading recommendations by hardcore soul heads heading you off in the direction of obscure King 45's; as far as I can tell there isn't a good source of information for the James Brown neophyte. Therefore, as a service to both the planet Earth, and you the Geek Radio absorber, I offer the definitive James Brown CD list.

If you own only one box set of any kind in your life, get James Brown Star Time (Polydor). This set has nearly everything you could want from Mr. Please, Please himself: "Papa's Got a Brand New Bag" (parts 1, 2 & 3, no less), "It's a Man's World" (and in case you missed the message, a little later in the collection you can hear, "It's a Man's, Man's, Man's World"), "Cold Sweat," "Hot" (the song ripped off by David Bowie when he made "Fame"), as well as what has to be the most sampled song of all time, "Funky Drummer." The underlings at Polydor worked extra hard to make every track on Star Time a true gem, so whether you're a life long fan, or a first time skeptic, everything you could possibly want to know about Georgia's favored son is here. If you don't feel funkier after listening to the 4 CD's in this collection, you should head to the nearest mortuary because you're dead, it's that simple. I've seen used sets of Star Time for around $30, a super-bargain to say the least; but if you buy one used make certain it has the awesome 64 page liner notes still included.

The Star Time box stops about 1980 and misses two of Mr. Brown's best songs, "Living in America" (the only good thing about Rocky IV) and "Gravity." Fortunately, the good folks at Scotti Bros. Records decided to capitalize on this error and released James Brown the Greatest Hits of the Fourth Decade, a disc which cleanly plugs in right where the Star Time box left off, with absolutely no overlap. James's sound in the 1980's is more electronic, snappy and commercial than his heavy soul work in the 60's, but every bit as interesting to hear.
Star Time and Fourth Decade together will give you a solid undergraduate degree with a major in Brown. From this point, you can pick and choose your graduate specialty.

In the "live" category, one disc clearly stands above the rest, James Brown Live at the Apollo, 1962 (Polydor). Not only is this the definitive live album for James, it may well be the best selling live album by any artist [1]. For one perfect night in 1962, the black messiah and his disciples went into the depths of Harlem bringing the R&B word with mesmerizing effect. Listening to Brown working the crowd is as perfectly artistic as seeing the way Van Gogh uses color in "Starry Night." Every moment -- from the fiery staccato introduction of the Hardest Working Man in Show Business, to the fever pitched points where the crowd suddenly looses control, to Brown's back-and-forth banter with the Famous Flames -- is amazing. In general I find live recordings unbearable to listen to, but the sound is so sharp and transcendent of time (is it really possible this disc was recorded 35 years ago?) that you feel like you're trying to muscle your way up to the front as James breaks into a cold sweat, doing his thing.
The only disappointment in Live at the Apollo is it ends abruptly. Every time I listen to this recording I find I have been lifted into a sweaty frenzy of soul fervor only to, once again, be dropped by a weak final edit. I don't know why this recording ends this way, and in the pit of my heart I still hold a glimmer of hope that someday Polydor will do an extended re-release of this monumental session with a proper ending.
Unfortunately Live at the Apollo suffers from its own success. The record was such a huge smash that two subsequent releases, also called Live at the Apollo, were made. Those recordings, in turn, were followed by a re-release of the original Apollo album under a different title (The Apollo Theater Presents, in Person, the James Brown Show). Yuck. Just forget the grim details and remember if that you have a disc with the year 1962 on it, you've got the right CD.

More obscure, but only slightly less interesting, is Love Power Peace - Live at the Olympia, Paris 1971 (Polydor). This is the only album length live recording featuring the JB's, a short-lived backup group of Mr. Brown's that would eventually leave to form the nucleus of Parliament Funkadelic. Even though the JB's on this recording are not as musically strong as the Flames on Live at the Apollo, they manage to work Brown into a higher level of frothing power. If grooving to an early recording by Bootsy Collins, or hearing the reaction of a befuddled French audience that can't understand what the hell James is saying, sounds like your idea of a good time, this is your disc. Often an overstocked item, it's sometimes possible to get a significant discount on this goodie, new or used.

For those of you who like Brown's music, but grow tired of his gut-shot panther screaming, consider the two disc set Soul Pride the Instrumentals 1960 - 1969 (Polydor). James is famous for working his backup bands to the point of exhaustion, consistently expecting nothing less than the absolute best they could crank out. This set shows the sharp results of a tireless taskmaster and is tighter and more hard driving than almost any other R&B set currently on the market. As with Fourth Decade, Soul Pride also has no songs overlapped with the Star Time box. This particular collection tends to be hard to find, especially used, but if you decide to go hunting, stick to the search, the reward is worth the effort.

If you're like me and are more interested in celebrating a black Christmas than a white one, snag a copy of Santa's Got a Brand New Bag (Rhino). Like most items in the Rhino catalog, this 16 song disc is far better than its lame 10 song competitor (James Brown Christmas (Polygram)), if for no other reason than the fact it includes the classic track "Santa Claus Go Straight to the Ghetto." Too right.
There you have it. Every life needs a soundtrack, now yours can have James Brown. Enjoy ... or get a soul transplant.
| | |
| --- | --- |
| | THE GEEK RADIO NETWORK |
[1]: You can't believe how hard this information is to track down, even with the help of a good search engine and over-zealous music friends. Contrary to popular opinion, Frampton Comes Alive is not the biggest selling live album of all time, and Live at the Apollo is definitely the best selling live R&B album of all time. But who holds the top honors in the live category, and how do you find out for sure? That I'd really like to know.

Want to email this to a friend? Send them the URL for this page: http://www.geekradio.net/v1.0/james_brown.html

Having technical problems with the site? Email the webmaster. Looking for something specific? Peruse the site map.

Poster art (c) 1995 Globe Poster
Copyright (c) 1999 Polterzeitgeist Productions