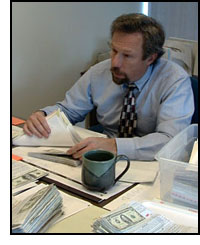 Special Agent Von Holt Interview
Of the US Secret Service
Interview by Mark "The Red" Harlan
Production by Josh Carter
April 8, 1999
What can you say about a job where you could be jumping in front of guns one day only to be pointing them at counterfeiters the next? Lots. Chris Von Holt talks with us about what it means to be a Secret Service Agent and, for just a moment, gives us a peek at the winking eye behind those dark glasses.
Becoming a Secret Service Agent: The process, the requirements, and the number of miles you have to run to be the mail clerk.
Why Become an Agent? So let's see, there's lots of hard work, long hours, and you may get killed ... Why the heck would someone want to be an Agent?
How the San Francisco office works: Mr. Von Holt is the Assistant to the Special Agent in Charge of the S.F. Office. Here's the low-down on how that office works, what it does, and his role as the medium cheese.
Secret Service counterfeiting duties: The lesser-known half of the Secret Service's function is to kick the butts of counterfeiters ... looking at his desk there must be a lot of butt kicking to do.
Secret Service protection duties: The Secret Service is well known for protecting government officials. Find out how that works, and who won the Bob Dole vs. Chris Von Holt Marathon.
| | |
| --- | --- |
| | THE GEEK RADIO NETWORK |